Minutes 27th May 2020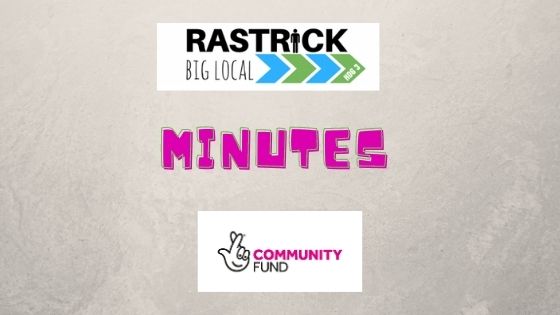 MINUTES RBL PARTNERSHIP MEETING
WEDNESDAY 27TH MAY 2020 VIA ZOOM VIDEO CONFERENCING
Present: Angela Peaker, Peter Edwards, Anne Sherriff, Danny Leech, Mags Bryson,
Rich Richardson, Sophie Whittaker, Elliot Collins
Apologies: Amanda Caldwell, Zoe Stock,
1. WELCOME AND APOLOGIES
The meeting was chaired by Sophie as Amanda was unable to attend the meeting. Apologies were noted.
2. MINUTES OF PREVIOUS MEETING AND MATTERS ARISING
The minutes of the meeting of 14th April 2020 were approved.
3. LTO UPDATE
A financial updated was provided as follows:
The net funds available for 2019-2020 are £72,150. Expenditure to date is £16,437,68 and total funds carried forward are £55,712.32. No funds have yet been drawn down from the additional £50,000 awarded to all areas to address Covid 19.
CFFC still hold £45,400 for the period of 2018-2019 with £46,541 being required to complete the VYC projects. However £45,700 still remains to be drawn down for this period.
4. BL REP UPDATE
Anne mentioned that Local Trust would soon be circulating a Big Local survey for partnership members to complete. Local Trust is holding group sessions via Zoom on the Covid 19 crisis as well as different sessions for chairs and vice chairs. Big Local Connects is cancelled this year but there is to be various on-line events in July.
5. SUB GROUP UPDATES
(a) Voice your Choice 1
Rastrick Juniors Football Group has begun the groundworks for the project with the funding from RBL being allocated to this. Dependent on the Covid19 situation it is hoped that it will be completed by September 2020. It will still be necessary to amend the current plan to reflect this.
(b) Voice your Choice 4
The works at the library are expected to be completed by mid to late summer. RBL will liaise with CMBC and Friends of Rastrick Library with regards to a plaque placement and press opportunities.
(c) Voice your Choice 5
The works at Rastrick Cricket Club are progressing and final invoices are in process.
Regarding the Cromwell Bottom Nature Reserve project we are awaiting the final works invoice.
(b) Community Small Grants
A small grant has been paid out to St John's Pantomime Society.
Monies still remain from the funding received from CFFC for 2019 and the spending period has been extended until September. As the funding for 2020 will now be released until the funding for 2019 has been spent we are querying with CFFC if their funding can be allocated to a different funding stream. Action: Angela to email CFFC to query this
(c) Marketing and website
We are continuing to update the website and facebook with useful information.
(d) Treasurers Report
The balance on 14th April 2020 was £3275.60. After expenses the balance on 27th May 2020 is £1727.60
6. BIG IMPACT
There have been no further applications to the Big Impact fund.
7. ANY OTHER BUSINESS
RBL have funded Focus4Hope to provide food parcels during the Covid 19 pandemic and Danny has met with Brighouse Foodbank and Focus4Hope for an update.
Discussion took place as to whether RBL could provide assistance in the longer term but it was agreed that further information and evidence would be needed but RBL should perhaps consider this. In the meantime it was agreed that a meeting should be arranged.
We have only recently filed our new plan and in view of the current situation it may be worth reviewing this now to decide if we want to make any changes to the plan.
8. TIME FOR NEXT MEETING
The date of the next meeting is Wednesday 8th July 2020 via Zoom video conferencing.
---