Minutes 12th July 2018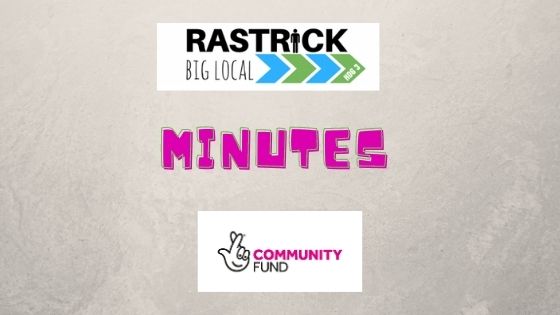 THURSDAY 12th JULY 2018
Present: Amanda Caldwell, Angela Peaker, Peter Edwards, Rich Richardson, Sophie Whittaker,
Elliot Collins, Mags Bryson, Helen Thompson, Robert Hustwick
Apologies: Danny Leech, Pauline Eastham
1. WELCOME AND APOLOGIES
The chair welcomed everyone to the meeting and apologies were noted.
2. MINUTES OF PREVIOUS MEETING AND MATTERS ARISING
The minutes of the meeting of 24th May 2018 were approved.
3. LTO UPDATE
An update was provided by CFFC. The monies received date are £53,650 and expenditure of £8,429 from February to June. The balance is currently £45,221. A proposal for £90,00 has been submitted and awarded by Local Trust for the Friends of Rastrick Library and Rastrick Juniors Football Club projects. This has yet to be drawdown. Action: Robert will contact Local Trust to enquire about to
4. BL REP UPDATE
The plan was approved until 31st October 2018 so 1st October 2018 is the necessary deadline to access the funding. Comments received from the plan assessor were that a monitoring and evaluation plan and a community engagement plan would be beneficial. Action: Danny and Angela to look at evaluation plan/Mags and Angela to look at Community engagement plan.
From 2019 Local Trust is changing the role of representatives from 2019. Helen believes that this will not fit within her work commitments but she does not envisage leaving Rastrick Big Local before Christmas or later if a mutual agreement can be reached.
5. SUB GROUP UPDATES
(a) Voice your Choice
An agreement, though not yet ratified or signed, has now been reached between the Council and the Friends of Rastrick Library to take the Access for All project forward and it could be that the Rastrick Juniors Football Club project could be starting soon. CFFC have submitted a proposal for the necessary monies of £90,000.
Bradley Woods are in negotiation for initial drawdown for capital expenditure against equipment purchase. This is subject to agreement being reached between RBL and management of Bradley Woods that the expected criteria to receive funding are met.
(b) Community Small Grants
The contribution of £5K for 2017/2018 has been paid into the RBL account. Two grants have been paid out of £1500 to Brighouse Arts Festival and £1500 to St Matthew's Church. It was also agreed that we should ask CFFC to transfer the £10K lottery funding to the RBL account so that we can pay small grants from that account. We have become aware of a Rastrick Friendship Group who have recently formed and we could perhaps contact them to see if they are eligible for funding.
(c) Marketing:
CFFC offered advice regarding the decision by RBL to enlist an outside company to hold RBL information on a secure server as opposed to buying two laptops. Outside assistance may also need to be sought as Danika has moved away and can no longer maintain the website. It was agreed that we should discuss this situation further.
(d) Treasurers Report
The balance at the meeting on 24th May 2018 was £913.71. CFFC have paid their £5,000 contribution into the account and after payments out of expenses and two small grants the current balance is £2801.87.
6. BIG IMPACT FUNDING
Following the decision made at the meeting in May, the Space@Field Lane application is currently being reviewed by an independent accessor and no update is available. Action: Amanda to contact accessor
7. ANY OTHER BUSINESS
(a) Angela attended the Big Local Connects event on 29th and 30th June 2018 and gained some ideas. Action: Angela to circulate details of information received.
(b) A proposal regarding the foodbank has been submitted by the Central Methodist foodbank and is still in the process of being reviewed.
(c) The Artistan market is on 19th August 2018. RBL will not be attending on this occasion..
(d) A brief review of the plan was undertaken to assess what action would be needed for the main review, the date of which is still to be confirmed. Action: Helen to finalise points discussed for circulation.
(e) An enquiry has been made through the website regarding a project relating to children and young people. Sophie declared an interest as the person is known to her. Action: Danny to contact person making request.
8. TIME AND VENUE FOR NEXT MEETING(S)
The date of the next meeting is 23rd August 2018
CLOSE 8.00 pm
---
---