Minutes for 11th January 2018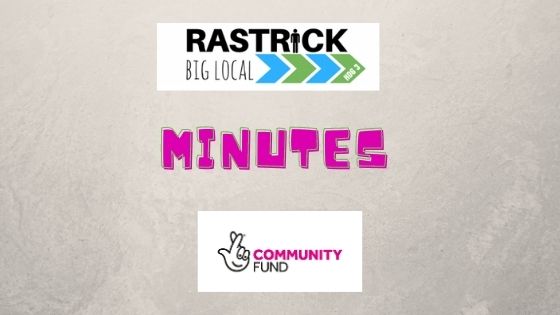 MINUTES RBL PARTNERSHIP MEETING ON THURSDAY 11TH JANUARY 2018
Present: Amanda Caldwell, Angela Peaker, Peter Edwards, Rich Richardson, Danny Leech, Pauline Eastham,
Mags Bryson, Helen Thompson, Sophie Whittaker
Apologies: Elliot Collins, Robert Hustwick, Danika O'Connor
1. WELCOME AND APOLOGIES
The chair welcomed everyone to the meeting.
2. MINUTES OF PREVIOUS MEETING AND MATTERS ARISING
The minutes of the meeting of 30th November 2017 were approved. It was noted that whilst the minutes of 19th October 2017 were approved on 30th November 2017 these had erroneously stated 19th September 2017 as being the meeting date.
3. LTO UPDATE
As the representative from the LTO was unable to attend the meeting no official update was provided. The expenditure for 2017-2018 up to the end of November was £3225.87 and we were informed on the night that an additional £1200 has been spent since that date.
4. BL REP UPDATE
Local Trust has given their feedback on the plan review which RBL undertook in October. This gives comments on what they liked and advice on how we can improve on future plan reviews. It also provides useful links to resources which may be useful.
Helen suggested that we review our "to do" list and in particular ideas on meetings/attending events etc Discussion took place about how we could gauge the impact we are having – ie through website/social media etc. The RBL leaflet is out-of-date and it was felt that it would be worthwhile preparing a new leaflet. Action: Danika/Angela to prepare leaflet/Agenda item for next meeting – Huddersfield University student to look at how we can measure impact.
5. SUB GROUP UPDATES
(a) Voice your Choice
VYC1: Rastrick Juniors have received permission from CMBC subject to a few points being clarified. They hope to be commencing work shortly and will give RBL a 6 week notice period to drawdown the funding which they were awarded. RBL will ask that they identify the funding they have received.
The Rastrick Plays Better projects have been completed at Oaklands and Carr Green and whilst completed at Thornton Road, further enhancement of the access road may be necessary.
Regarding Burnsall Road, RPB are awaiting the results of voting from Tesco Bags for Help which closes at the end of January.
Regarding Healey Wood Road the work to replace the goalposts has been agreed with the council by payment of a grant which is in hand.
VYC2: All projects completed
• Woodhouse Lane Play area
• Fruit For All
• Bradley Woods Camping Pods
VYC3: Danny and John Sheppard of Friends of Rastrick Library met with Sarah Richardson of CMBC. She stated that the library consultation is long term and there are no plans to close the library. The earlier estimate of costs by CMBC for the required work were excessive and FORL are awaiting a revised drawing from an architect who considers that the work should be able to be completed within the budget.
VYC4: There are six confirmed proposed applications to date. It was agreed to extend the date for submissions to 28th February 2018. The Huddersfield student placement is to begin shortly with Field Lane School and Childrens Centre. Action: Peter to put notice on facebook/Angela on website
(b) Community Small Grants
Two applications have been received since the last meeting. One of these was rejected due to it being felt that it did not meet the criteria. The second application was approved in principle subject to the applicant being asked to provide three quotes for the work to be undertaken. The funding contribution from CFFC is still to be clarified and it was discussed whether it would be beneficial to request a meeting with CFFC to discuss this further. Action: Clarification required from CFFC on their funding.
(c) Marketing and Engagement
Marketing: The website is nearing completion. Mags has kindly offered the use of their offices in Elland to review this as there is no Wifi at the Arncliffe Centre and it was agreed to hold the next partnership meeting there.
Engagement: The Friends of Rastrick Library are holding a quiz on 8th February 2018 and members of RBL will be making up a team.
Bradley Woods Scout Camp is having a Beer Festival at the end of February and it was agreed that we contact them to ask if we can have a presence there. Action: Amanda to contact Bradley Woods
(d) Treasurers Report
The balance at the meeting on 30th November 2017 was £943.97 and after expenses the balance at 11th January 2018 is £830.63.
6. ALTERNATIVE POT OF FUNDING
The criteria for any applications requesting funding from the funding allocated for larger scale projects was agreed and it was decided that an appropriate name should be given to this funding stream. An expression of interest has been received from Space at Field Lane and the RBL sub-committee will request a meeting to discuss the next step with them. Action: Meeting with committee of Space to be arranged
7. ANY OTHER BUSINESS
a) The budget for 2017-2018 has now been submitted to Local Trust and is in the assessment stage. Regarding the monies which will be required for current projects Helen confirmed that a drawdown form will need to be submitted with the turnaround for funding being around 6 weeks.
b) Danny has been contacted by the organiser of Brighouse Arts Festival who are looking at summer events incorporating Rastrick. He has been in touch with them but is waiting for them to make further contact.
8. TIME AND VENUE FOR NEXT MEETING (S)
The date of the next meeting is Thursday 15th February 2018 at Mags office, Elland
CLOSE 8.00 pm
---
---