Minutes 27th January 2022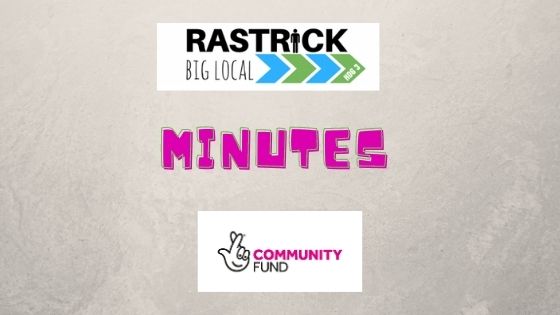 MINUTES RBL PARTNERSHIP MEETING
Thursday 27th January 2022 at the Arncliffe Centre

Present: Amanda Caldwell, Angela Peaker, Rich Richardson, Danny Leech, Richard Peaker,
Anne Sherriff, Amanda Lawson, Sophie Whittaker, Gary Collins

Apologies: Sophie Whittaker; Donna-Marie Hargrave; Lorraine Beiley
1. WELCOME AND APOLOGIES (AND ANY DECLARATIONS OF INTEREST)
The Chair welcomed everyone to the meeting.
2. MINUTES OF PREVIOUS MEETING AND MATTERS ARISING
The minutes of the meeting of 13th December 2021 were approved.
3. LTO UPDATE
The LTO provided a financial update. The approved budget to the end of the period is £521,.650. Of this the amount of £167,150 has been drawn down. The total expenditure to date is £88,582.19. CFFC currently hold £41,507.96. Further funding will be required shortly for the Cromwell Bottom and RJFC projects. Action: Angela and Amanda L to liaise re budget
4. BL REP UPDATE
There was nothing to update from Anne.
At our meeting in December whilst discussing the review which we undertook to submit to Local Trust we agreed that we should review our Code of Conduct and Conflict of Interest policy. Partnership members have now signed the necessary documents.
5. SUB GROUP UPDATES
a) Voice your Choice
All projects funded via Voice your Choice have now been completed. This will now be removed as an agenda item.
(b) Community Small Grants
The following small grant applications were approved by the sub-group:
St Matthews Theatrical Group £1500; St Johns Church £1500; Empire Dance Troop £1500
The funding received from CFFC of 5K for 2021 has now been spent and we will request the funding for 2022. Action: Angela to contact Rob
c) Marketing and website
Danny, Amanda and Angela have been taking part in a research programme on Community small grants. We are currently considering the current branding and criteria. We have contacted the 6th form college to see if any students may be interested in helping with this as a project. Danny and Amanda have been invited to visit the college shortly.
(d) Treasurers Report
The balance at the meeting on at 13th December 2021 was £2707.69. There have been no further payments out and the balance remains at £2707.69.

6. BIG IMPACT

Danny has been given a CMBC contact regarding the Cromwell Bottom but has not had any response to date. Action: Danny to contact Robin Dalton
St John's Organ fund: Danny has contacted them to inform that the Big Impact fund is suspended.
The Rastrick Juniors Football Club application for funding towards the clubhouse has been approved.
7. ANY OTHER BUSINESS
Space update: Space have now been informed that they are not eligible for a work placement under the Kickstart programme.

The café is open Wednesday and Fridays and footfall is increasing. A number of different activities are now taking place at Space. A representative from Healthy Minds has a presence at Space and the partnership agreed that he could sit on the RBL partnership if he would like to.
There is no further update at present on the project with the library.
Amanda has been researching Strivelive which is a face-to-face training programme via the internet. It is aimed at individuals who wish to start up their own business. This is geared at 30 individuals taking part. Discussion take place as to whether RBL could team up with another Big Local Group. It was agreed that RBL would need to look at marketing this in the Community to gauge interest. Action: Anne to email other groups; Danny and Amanda to look at marketing brief.


8. Date for next meeting: Monday 14th March at 6.00 pm at the Arncliffe Centre
---