Minutes 17th May 2021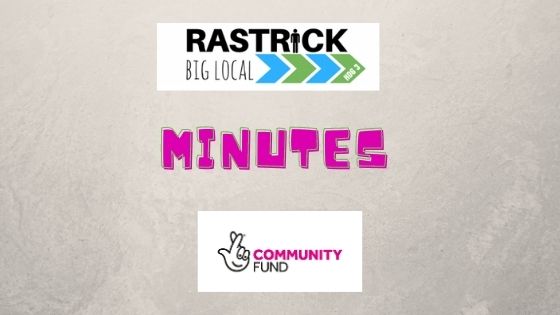 MINUTES RBL PARTNERSHIP MEETING
MONDAY 17th MAY 2021 VIA ZOOM VIDEO CONFERENCING
Present: Amanda Caldwell, Angela Peaker, Rich Richardson, Danny Leech, Richard Peaker, Peter Edwards, Elliot Collins, Leanne Jones, Anne Sherriff, Sophie Whittaker,
Apologies: Gary Collins
1. WELCOME AND APOLOGIES
The chair opened the meeting.
2. MINUTES OF PREVIOUS MEETING AND MATTERS ARISING
The minutes of the meeting of 7th April 2021 were approved.
Carr Green Recreation Ground: Sophie and Angela have both made enquiries with CMBC about the missing part on the zipwire and are still awaiting a response. It has come to light that there has been minimal damage to one of the jumps on the cycle track.
3. LTO UPDATE
The LTO provided a financial update.
The net funds available for year 6 – 2019-2020 were £92,150. The total expenditure for year 6 2019-2020 was £54,375.78 with unspent funds being £37,774.22.
Local Trust has now made a payment of £50,000 (payment 3) together with £1142 which was the underspend required for the Friends of Rastrick Library project. Te total expenditure for year 7 2020-2021 is £48,680.44.
An amended budget has been requested by Local Trust. Action: Angela and Amanda(s) to meet to revise budget.
4. BL REP UPDATE
Anne updated that there are on-line events to attend. Big Local Connects is at the end of October and registration will be opening soon for up to three partnership members. Amanda, and possibly Leanne, will be attending.
5. SUB GROUP UPDATES
(a) Voice your Choice 1
The Rastrick Juniors Football club planning application for the club house has now been approved.
Voice your Choice 4
The library sunken garden is awaiting completion by the Council. The final payment of £15000 has now been made. The planned opening is on 21st June after new staff have been recruited and any minor issues repaired at the library. Whilst CMBC have no intentions regarding an opening ceremony/plaque dedication, they would be willing to consider this.
(b) Community Small Grants
Payment to Field Lane School for the Grow to School project is in process.
The application for the Field Lane skip tidy up project has also been approved but no payments have yet been made. We are waiting to speak with Together Housing re procedure. It was agreed that if this project is successful we may extend it further. Action: Elliot to query with Together Housing.
A third application for therapeutic arts at the Space@Field Lane has been approved in principle. We are awaiting some further information before proceeding with payment of the funds.
c) Marketing and website
Amanda has had her first session with the film company and will be going to London at a later date to work on this. Regarding the Rastrick Big Local video on YouTube featuring Roger Davis, he has confirmed his permission for us to place this on our website.
(d) Treasurers Report
The balance on the RBL account remains at £3534.69.
6. BIG IMPACT
No further applications have been received to the Big Impact fund.
7. ANY OTHER BUSINESS
a) A funding application to City Connects has been successful and a job advert is currently being advertised for two part-time guided walkers. It is advertised on the RBL website and facebook page as well as Space@Field Lane. It has also been circulated to other statutory groups to advertise. The closing date is the end of May.
The café is due to open on Friday 21st May and various activities will be starting shortly. Space also intend to liaise again with the public to ask their opinion on classes, groups etc for the centre.
An event is being considered on 25th June to invite social prescribers along but this will be subject to the status of the current covid restrictions.
b) Brighouse Gala is on 11th September. It was agreed that we investigate having a presence along with Space@Field Lane, subject to there being sufficient volunteers to assist. Action: Amanda to progress.
c) RBL discussed the current financial position of RBL and the way forward. Danny has previously met Mike Salt who works in an advisory company with Community groups and is aware of the Big Local programme. It was agreed that it would be worthwhile using his services to look at the remainder of the plan. Action: Amanda and Danny to prepare a brief for consideration.
8. Date for next meeting: Monday 28th June 2021 at 6.00 pm
9. Close at 8.00 pm
---