Minutes 24th February 2021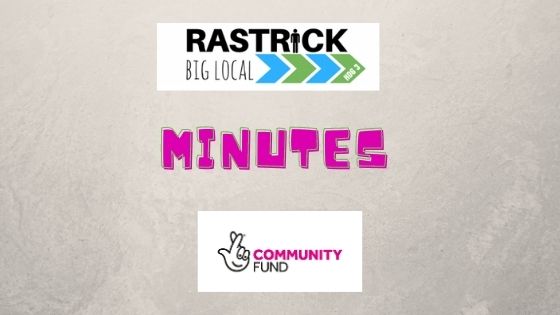 MINUTES RBL PARTNERSHIP MEETING
WEDNESDAY 24th FEBRUARY 20201 VIA ZOOM VIDEO CONFERENCING
Present: Amanda Caldwell, Angela Peaker, Rich Richardson, Danny Leech, Mags Bryson, Richard Peaker, Elliot Collins, Anne Sherriff, Sophie Whittaker, Peter Edwards, Robert Hustwick, Amanda Lawson
Apologies: Gary Collins
1. WELCOME AND APOLOGIES
The meeting was opened and the Chair welcomed Amanda Lawson who has taken over Robert's position at CFFC. No declarations of interest were declared.
2. MINUTES OF PREVIOUS MEETING AND MATTERS ARISING
The minutes of the meeting of 13th January 2021 were approved.
3. LTO UPDATE
Amanda expressed thanks to Robert as he has now retired from CFFC.
The LTO provided a financial update.
The net funds available for year 6 – 2019-2020 are £92,150. This comprises the first payment of £72,150. The requested £20,000 has been received to fulfil the 2nd year payment to the Space@Field Lane. The total expenditure to 31st December 2020 is 53,389.78 with unspent funds being £38,760.22.
The expenditure for year 7 2020-2021 is £1990.66. The first payment for this period has not yet been received and we will investigate this. Action: Amanda (CFFC) to contact Local Trust
CFFC still hold £13,858.00 from the 2018-2019 funding allocated to Rastrick Library.
4. BL REP UPDATE
Anne confirmed that the £50,000 announced at the start of the Covid crisis can be used in any area and not solely in relation to covid matters. We can draw this down in the normal way. There is no requirement to do a plan review every year though Anne advised it may still be a worthwhile practice to follow should we wish to make any changes.

Amanda is part of the Community Leadership Academy cluster. The Local Trust hold zoom meetings on various issues and it may be worth looking at case studies in general. It may be worth considering holding a first aid training session.
5. SUB GROUP UPDATES
(a) Voice your Choice 1
Rastrick Juniors Football club have completed the groundworks which were funded by Rastrick Big Local. They have submitted a new planning application for the clubhouse to CMBC. No date has yet been set for a plaque dedication.
(b) Voice your Choice 4
The sunken garden restoration is to be completed by the Council. Again the situation regarding a plaque placement is yet to be discussed. Discussion on the underdwelling is on hold until a later date.
CMBC are considering asset transfers of some of the local libraries but Rastrick is not included in this. However whilst some of the libraries are due to open soon on reduced hours there is no update on Rastrick. Action: Sophie to query this.

(c) Voice your Choice 5
Request for placement of plaques at the Rastrick Cricket Club and Cromwell Bottom are deferred.
(b) Community Small Grants
The £5,000 funding from Community Foundation for Calderdale has now been received.
The full funding amount of £1500 has now been transferred to the Rastrick Craft Hub.
No further applications have been received.
c) Marketing and website
The website and facebook have continued to be updated.

(d) Treasurers Report
The balance on 13th January 2021 was £1034.69. The £5,000 contribution from CFFC has been received and the remaining £1,000 paid to the craft hub. The balance is currently £5034.69 (with £300 still held for the Friends of Rastrick Cemetery).
6. BIG IMPACT
Danny has received an enquiry from Cromwell Bottom but it does not fit into the criteria of the Big Impact fund. They will further review their application to us.
7. ANY OTHER BUSINESS
a) Amanda updated on the Space@Field Lane. They now have a church using the premises at the weekend for an initial 6 month period. They have two new support groups being an on-line quiz and an opportunity for a friendly chat, both of which are being used by the local community. The proposed Community garden and mens shed group are both being considered. Danny is currently working on bids to obtain grant funding.
b) Focus4Hope update made a request in 2019 for funding towards employing a support worker. In line with our previous response we are unable to fulfil this due to information requested still not being forthcoming.
8. Date for next meeting: Wednesday 7th April 2021 at 6.00 pm

9. Close 8.00 pm
---