Minutes 14th April 2020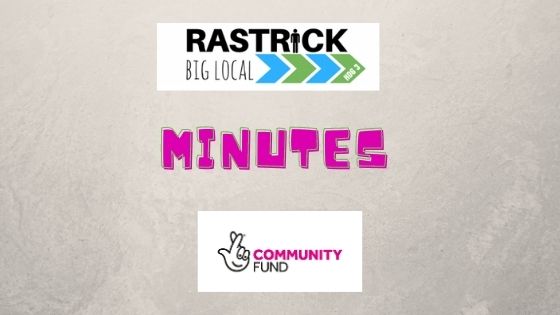 MINUTES RBL PARTNERSHIP MEETING
TUESDAY 14th APRIL 2020 VIA ZOOM VIDEO CONFERENCING
Present: Amanda Caldwell, Angela Peaker, Peter Edwards, Anne Sherriff, Danny Leech, Mags Bryson, Leanne Jones, Robert Hustwick
Apologies: Zoe Stock, Rich Richardson, Elliot Collins
1. WELCOME AND APOLOGIES
The chair opened the meeting and apologies were noted.
2. MINUTES OF PREVIOUS MEETING AND MATTERS ARISING
The minutes of the meeting of 5th March 2020 were approved.
3. LTO UPDATE
A financial updated was provided as follows:
The net funds available for 2019-2020 are £72,150. Expenditure to date is £5,053.58 leaving £67,096.42.
CFFC still hold £45,400 for the period of 2018-2019. There has been expenditure in relation to VYC for the period 2018-2019 but an update was not available. Action: Robert to send update for 2018-2019 period
4. BL REP UPDATE
Anne reminded the partnership of Workplace via Local Trust which is Facebook based where all areas can share news. Local Trust has now offered a free Zoom paid account which Danny has signed up for.
Local Trust has allocated a further £50,000 to every Big Local area to help with the current crisis.
Anne also updated that Big Local Connects has been cancelled until 2021.
5. SUB GROUP UPDATES
(a) Voice your Choice 1
RJFC now have a plan in place. They hope for works to commence shortly and hopefully to be completed by the end of September. The allocated money for this project has been returned to Local Trust and there is no plan in respect of this. Anne recommended that we ask for an amendment to the current plan. Danny will be having a meeting with RJFC to discuss the project shortly and will update at the next meeting. Action: Danny to meet with RJFC
(b) Voice your Choice 5
The works at Rastrick Cricket Club are progressing and final invoices are in process.
Regarding the Cromwell Bottom Nature Reserve project we are awaiting the final works invoice.
(b) Community Small Grants
Anne confirmed that Elliot and Sophie are entitled to have a vote as long as their decision does not outnumber that of the residents and the partnership agreed to this. Elliot is now on the sub-group for Community small grants.
Due to a number of factors, the Woodhouse Residents Association application was declined.
Discussion took place about the application submitted by St John's Pantomime Society. As some partnership members were not present in the meeting it was agreed that they would be contacted by email to give their decision. Action: Mags to update Woodhouse group/Angela to email members not present in Zoom meeting
Monies still remain from the funding received from CFFC for 2019 and the funding for 2020 will not be released until this has been spent.
(c) Marketing and website
Due to the Covid-19 situation and events around the area being cancelled a newsletter has not been prepared for the period of April to June 2020. We will continue to update the website and facebook as far as possible.
(d) Treasurers Report
There has been no expenditure on the RBL account since the meeting in March and at 14th April 2020 the balance remains at £3275.60.
6. BIG IMPACT
There have been no further applications to the Big Impact fund.
Space@Field Lane is currently closed due to the Covid-19 pandemic and we will liaise with them when it is again open with regards to the involvement of Rastrick Big Local. Action: Amanda to liaise with Space
7. ANY OTHER BUSINESS
a) Focus4hope and Brighouse Foodbank are working together to deliver food parcels around the area. Discussion took place about how Rastrick Big Local could support this. Danny has spoken with Local Trust who confirmed that if we funded this we could just use existing monies. Again any course of action here would have to be reflected in the plan.
b) Danny mentioned Daniel Cawdron from Discourse who is connected to Eclipse Energy. This company is involved in a government funded scheme offering a free boiler and free home insulation to individuals meeting certain criteria. It was agreed that when RBL meetings resume we should invite him along to a meeting. Action: Invite to next RBL face-to-faced meeting.
c) Peter raised a query regarding the £5,000 funding from CFFC as he did not think it was specific to small grants although Mags thought it was. Robert said he would have thought it could be used elsewhere but would raise this question for us. Action: Robert to query critera for £5,000 funding from CFFC.
d) Danny updated that a bid from Space and RBL had been put in to Food for Life but this was not successful. He has been contacted by Isaac Kneebone-Hopkins who would like to put a blog together about RBL and would like to visit at some point. Action: Invite to meeting at later date.
e) The tidy up at Bramston Street park was postponed and may be re-scheduled to take place in September.
8. TIME FOR NEXT MEETING
The date of the next meeting is 27th May 2020 at 6.00 pm via Zoom video conferencing.
---