Minutes of 7th September 2017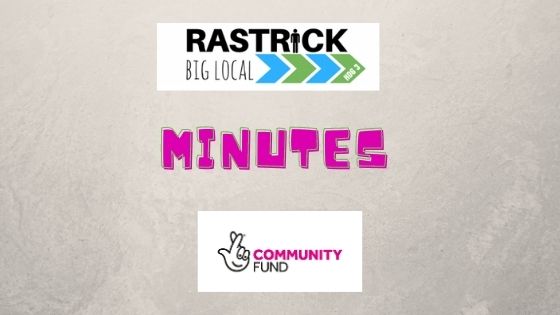 MINUTES RBL PARTNERSHIP MEETING
THURSDAY 7th SEPTEMBER 2017
Present
Amanda Caldwell, Angela Peaker, Peter Edwards, Danny Leach, Rich Richardson, Elliot Collins
Mags Bryson, Helen Thompson
Apologies: Danika O'Connor, Christine Beal, Craig Weston, Robert Hustwick
1. WELCOME AND APOLOGIES
The chair opened the meeting.
2. MINUTES OF PREVIOUS MEETING AND MATTERS ARISING
The minutes of the meeting of 27th July 2017 were approved.
3. LTO UPDATE
Apologies were received from CFFC. No official financial update was provided but since the last update we believe £4075.24 has been paid out. Therefore an estimated balance of the account is £28,996.
4. BL REP UPDATE
It is a requirement of Local Trust for all Big Local Partnerships to complete membership forms to assess that they still meet the required criteria. These are due to be submitted by the end of December. Action: HT to forward forms to Angela for completion.
5. SUB GROUP UPDATES
(a) Voice your Choice
The RJFC project has not yet commenced due to further queries being raised by CMBC. Danny will continue to liaise with RJFC on its progress.
Regarding Rastrick Plays Better, funding is now in place to commence work at Thornton Road and the works have been put out to tender. Tenders are also in progress for goalpost replacements at Healey Wood Road. Further funding is still being sought for Burnsall Road.
Voice your Choice 2: A meeting has been requested with Bradley Woods Scout Camp to discuss progress.
Voice your Choice 3: The Friends of Rastrick Library are working with Calderdale Council to look at estimates for the building work/plans required including options for the planned access improvement. RBL are currently awaiting feedback.
In relation to the theme of "children and young people" which has been chosen for the next VYC the school councils have been contacted for ideas requesting a response by 15 September. Action: VYC review meeting set of 25th September at 6.00 pm at the Arncliffe Centre.
(b) COMMUNITY SMALL GRANTS
A discussion took place about the small grant fund. The contribution from CFFC which was signed of in September 2016 has not yet been spent and we will seek clarification from CFFC about t the spend period. Action: Mags and Angela to review small grants
(c) MARKETING AND ENGAGEMENT
A new logo has been agreed for Rastrick Big Local and the new website build is currently underway.
Marketing: A brief discussion took place at the last meeting about the Big Event which was not as well attended as previous years. The general feeling was that we need to review whether to proceed again with a big event/funday or whether we should look at another type of event. This will be discussed again at a later date.
(d) TREASURERS REPORT
The balance at 27 July was £533.71. Since this date there have been expenses and bank charges and the monies held for the Friends of Rastrick Cemetery have now been released. The balance at 7 September is £114.26.
6. ALTERNATIVE POT OF FUNDING/PLAN REVIEW
It was agreed to defer discussion on the alternative funding pot under the meeting in October.
With regard to the plan this is for the period of 2016-2019. However, funding was only drawn down for one year. A review of the plan will need to be undertaken but it is not necessary to draw up a new plan or make amendments if this is not necessary. Big Local require answers to certain questions for evaluation before releasing the funds for the next period. A date of 9th October 2017 was agreed for the plan review meeting.
7. COMMUNITY LINKS PROJECT
Danny and Rich have met with the Politics professor at Huddersfield University. He has students who could assist RBL by engaging with the junior and senior schools in relation to the next VYC theme. The university have their own funding for this. They will need a plan from RBL to undertake this project and the partnership were in agreement that we should proceed further with this. Action: DL and RR to liaise with university.
8. ANY OTHER BUSINESS
(a) The date for the Community update meeting was agreed for 9th November 2017 from 7.00 pm until 9.00 pm at the Rastrick library. A decision on catering has yet to be decided. Action: MB to book library
(b) RBL has been contacted by a resident regarding littler on the streets. Danny responded that this was a statutory requirement by CMBC to address this. He also advised that should they wish to form a Community group then small grants were available – ie to fund Community tools.
(c) The contracts for Danny and Angela are due for renewal shortly. In their absence their roles were discussed and it was agreed that these be renewed for a further 1 year period.
9. DATE FOR NEXT MEETING (S)
The date of the next meeting is Thursday 19th October 2017.
10. CLOSE 8.00 PM
---
---