Minutes 9th August 2021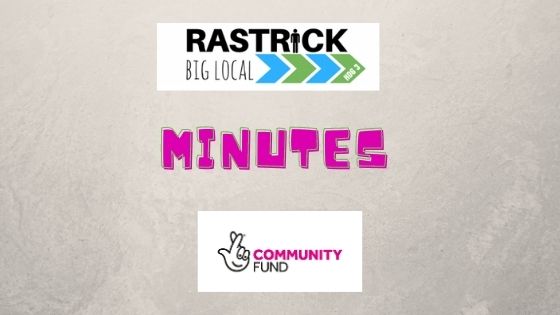 MINUTES RBL PARTNERSHIP MEETING
MONDAY 9th AUGUST 2021 VIA ZOOM VIDEO CONFERENCING

Present: Amanda Caldwell, Angela Peaker, Rich Richardson,
Danny Leech, Richard Peaker, Peter Edwards, Anne Sherriff, Amanda Lawson, Sophie Whittaker, Neil Merrifield
Apologies: Elliot Collins, Gary Collins, Zoe Stock
1. WELCOME AND APOLOGIES (AND ANY DECLARATIONS OF INTEREST)

The Chair welcomed everyone to the meeting.
2. MINUTES OF PREVIOUS MEETING AND MATTERS ARISING
The minutes of the meeting of 28th June were approved. As an addendum to the minutes of the 17th May, previously approved, it is noted that we received a query from Turning Point. Danny contacted them but has not heard anything back from them.
Defribrillator at Space@Field Lane
Sophie confirmed that CMBC have the defibrillator in storage. Field Lane School have agreed that this can be placed on their railings and they will take responsibility for its maintenance. It is yet to be but in place and Sophie will continue to monitor this. Peter queried the possibility of one outside the shops. Sophie believes that this has been considered previously and was not possible but will check this out further. Action: Sophie to action defibrillator queries.
Land at William Henry Smith School – gardening related
Danny has contacted William Henry Smith School but this matter is on hold due to the school holidays.
Highbury School
Highbury School had their school bus stolen and was trying to raise funds for its replacement. Amanda contacted them to see if RBL could assist. However, unless it is covid related, they would not respond until the new term in September.
3. LTO UPDATE
The LTO provided a financial update.
The Local Trust payment for January 2021 (payment 3) was £50,000 (plus £1142.49 to cover a payment from the previous year) CFFC are holding £41,563.51 and another payment (number 4) was due in July. It was agreed that we would request £25,000 of this payment. Action: Amanda L to request drawdown of £25,000.
The spend report has been submitted together with the amended budget.
4. BL REP UPDATE
Amanda, Angela and Leanne have registered to Big Local Connects in October.
Matt Leach will be visiting RBL on 1st October. Whilst the itinerary is yet to be set it was agreed that the visit should include the Rastrick library and Space@Field Lane.
5. SUB GROUP UPDATES
Voice your Choice 4
The wording for the plaque at the library has now been agreed between CMBC and RBL and we are awaiting a date for an opening ceremony. The library is now on its original opening hours.
(b) Community Small Grants
A partial payment of £74 has been paid out on the therapeutic arts project and the outstanding £1426 will be paid when we received the funding from CFFC for 2021. Good feedback has been received on this project and Angela has been asked to run an art class in Hipperholme.
A Community small grant for a table tennis group at Upper Edge Baptist Church has been approved. Action: Danny to send them BACS form for completion.
c) Marketing and website
The website and facebook have been updated with information.
(d) Treasurers Report
The balance at the meeting on 28th June 2021 was £805.46. After payments out the balance at 9th August 2021 is £631.46.
6. BIG IMPACT
An application has been submitted by Cromwell Bottom. The sub group is currently Sophie, Rich, Amanda and Danny. Neil is willing to join the RBL and was voted on by the partnership. He agreed to sit on the sub group panel. Action: Sub group meeting to be arranged
7. ANY OTHER BUSINESS
7a – Space plans and progress
Amanda updated that Space is being well used and has been busy during the holidays. Other parties have shown interest in using the building. Whilst the café is open for the lunch club on Fridays it is not open on other days due to there being no chef. They will be advertising this vacancy as well as the vacancy for a Caretaker/Cleaner. Action: Amanda to ask Leanne for details of job vacancies for RBL to advertise.
Danny updated that the walking group at Cromwell Bottom has been successful and further walks were underway in Hebden Bridge and Manor Heath. A course by Splat first aid training which will focus on leader training and first aid is booked at Space@Field Lane on 16th August 2021.
Action: Danny will contact Simon at Upper Edge Baptist Church regarding the walks from the Space@Field Lane.
7b – Strategic Consultancy
Danny has not heard anything further from Mike Salt and we agreed not to pursue this further. Amanda has contacted Matt Leach to ask if he has any recommendations and he will get back to her. Anne will also look into this. Action: Anne to investigate
7c – Carr Green defibrillator battery
Danny has been contacted by Jeremy Meadowcroft, previously of Rastrick Juniors, who takes responsibility for the defibrillator on Carr Green Lane as this is in need of a new battery. Danny has sent a Community small grant form to Jeremy and recommended that either the school or tennis club apply. We have not had an application in, to date.
7d – Rastrick Big Local AGM
The AGM will be held at Rastrick Library on Wednesday 27th October at 7.00 pm.
Date for next meeting: Monday 20th September 2021 at Space@Field Lane
8. Close 8.00 pm
---