Minutes 13th January 2021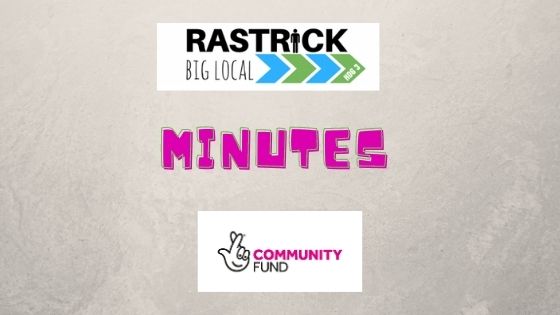 MINUTES RBL PARTNERSHIP MEETING
WEDNESDAY 13th JANUARY 2021 VIA ZOOM VIDEO CONFERENCING

Present: Amanda Caldwell, Angela Peaker, Rich Richardson, Danny Leech, Mags Bryson, Richard Peaker, Gary Collins, Elliot Collins, Anne Sherriff, Sophie Whittaker, Robert Hustwick

Apologies: Peter Edwards
1. WELCOME AND APOLOGIES
The meeting was opened and apologies were noted. No declarations of interest were declared.
Members have completed new forms for the 2021 period.
2. MINUTES OF PREVIOUS MEETING AND MATTERS ARISING
The minutes of the meeting of 18th November 2020 were approved.
3. LTO UPDATE
The LTO provided a financial update.

The net funds available for 2019-2020 are £72,150. Total expenditure to 31st December 2020 is 53,389.78 with unspent funds being 18,760.22.

CFFC still hold £13,858.00 from the 2018-2019 funding allocated to Rastrick Library.

A request has been submitted to Local Trust to draw down enough monies to cover the £25,000 pledged to the Space@Field Lane.
Action: Robert to check if this has been received

As Robert will shortly be retiring shortly we have asked if the new finance assistant could attend the next meeting.
Action: Robert to extend invite

The financial procedures document between CFFC and Rastrick Big Local for the period of October 2020 to October 2021 was approved.
4. BL REP UPDATE
Anne updated on the Kickstart programme. This is a government initiative where young people are offered a 6 month placement on minimum wage. The employers must provide training and support to find a permanent job at the end of the placement. Local Trust are considering being a gateway and looking at which Big Local areas could be involved. A brief discussion took place on whether RBL could take part in this. However no financial decision was reached.
5. SUB GROUP UPDATES
(a) Voice your Choice 1
Rastrick Juniors Football club have completed the section funded by Rastrick Big Local. Due to the current situation no discussion has yet taken place regarding a plaque dedication.

(b) Voice your Choice 4
The sunken garden restoration is to be completed by the Council. Again the situation regarding a plaque placement is yet to be discussed. Discussion on the underdwelling is on hold until a later date.

(c) Voice your Choice 5
Request for placement of plaques at the Rastrick Cricket Club and Cromwell Bottom are deferred.

(d) Community Small Grants
No further applications have been received. At an earlier meeting a discussion took place about the possibility of revising the criteria and application form for future applications. This is still under
consideration. Action: Mags and Amanda to liaise

Regarding the application for the Rastrick Craft Hub, £500 has been paid into the Space@Field Lane until the Rastrick Craft Hub receive confirmation of their bank account. We are awaiting the transfer of the
£5,000 funding from CFFC and, once received, we will transfer the remaining £1000. For clarification, as per the minutes of 20th August 2020, an interest in this application was declared by Amanda.

e) Marketing and website
The website and facebook have continued to be updated. A newsletter was sent out over the Christmas period.

(f) Treasurers Report
The financial procedures document for the period of October 2020 to October 2021 has been approved.

The underspend of funds from CFFC has been returned and the balance on 13th January 2020 is £1034.69. The funds of £300 are still held for the Friends of Rastrick Cemetery.
6. BIG IMPACT
There have been no applications to the Big Impact Fund.
7. ANY OTHER BUSINESS
a) The project to give every resident in Rastrick Hall and Grange and St Winifreds Nursing Home was completed with over 100 gifts being given.

b) Amanda gave an update on the Space@Field Lane. The centre is closed but staff are present as they are working on different ideas.

RBL and Space are in discussion with Field Lane School regarding the garden area with the hope of working on a growing project with the school. They have received funding of £2700 from Staying Well.

A separate idea being considered is a "Man's Shed". There is already some interest in this and RBL would not necessarily be involved other than being a funder. Funding is being sought to further this idea.

It may be beneficial for RBL to work closely with Creative Minds and Staying Well and other mental health charities in the future.
8. Date for next meeting: Wednesday 24th February 2021
9. Close 8.00 pm


---