Minutes 18th November 2020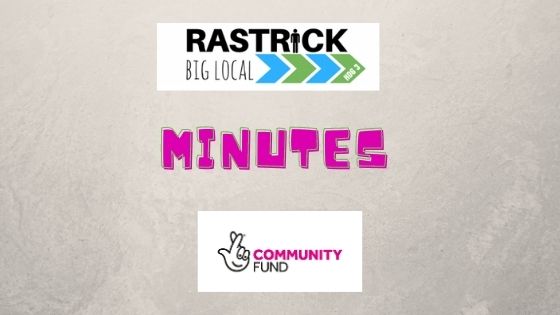 MINUTES RBL PARTNERSHIP MEETING
WEDNESDAY 18th NOVEMBER 2020 VIA ZOOM VIDEO CONFERENCING
Present: Amanda Caldwell, Angela Peaker, Rich Richardson,
Danny Leech, Mags Bryson, Richard Peaker, Gary Collins, Elliot Collins, Leanne Jones, Anne Sherriff
Apologies: Sophie Whittaker, Peter Edwards, Zoe Stock
1. WELCOME AND APOLOGIES
The meeting was opened and apologies were noted.
2. MINUTES OF PREVIOUS MEETING AND MATTERS ARISING
The minutes of the meeting of 7TH October 2020 were approved.
3. LTO UPDATE
The LTO provided a financial update.
The net funds available for 2019-2020 are £72,150. Total expenditure to date is £49,923,36 with unspent funds as at 18th November 2020 being £22,226.64.
CFFC still hold £13,858.00 from the 2018-2019 funding allocated to Rastrick Library. There is a deficit of £1142 and a response is still awaited from Local Trust as to which budget this can be paid from.
4. BL REP UPDATE
The partnership members have completed the survey circulated by Anne which forms the second part of the plan review and this will now be submitted to Local Trust. Action: Anne to submit this.
5. SUB GROUP UPDATES
(a) Voice your Choice 1
Rastrick Juniors Football club have completed the section funded by Rastrick Big Local. A date for placement of a plaque is yet to be confirmed.
(b) Voice your Choice 4
The major building work is complete and the final topping and lighting is to be completed – weather permitting. The formal sunken garden restoration is to be completed by the Council.
(c) Voice your Choice 5
The works at Rastrick Cricket club are now complete.
The works have been completed at Cromwell Bottom. There has been a small amount of damage in recent weeks and the group are undertaking repairs.
(b) Community Small Grants
An application from the Rastrick Craft Hub has been approved but the group are still awaiting confirmation of their bank account details. In the meantime it was agreed that the Space@Field Lane would hold this funding temporarily. Action: Angela to transfer funds to Space@Field Lane.
There are a few other possible applications but these are currently on hold due to Covid 19.
As the £5,000 funding from CFFC for 2019 has now been used we will complete the end of grant monitoring report. Rob has confirmed that CFFC will then transfer the funding for 2020. Action: Angela to complete the end of grant monitoring report.
The criteria and application form for applying for a small grant is still under review. Action: Amanda and Mags to liaise
c) Marketing and website
We are still updating the website and facebook with any information.
(d) Treasurers Report
A draft of the financial procedures document has been prepared to send to CFFC for comment.Action: Angela to send financial procedures document to CFFC
The balance on 18th November 2020 is £1615.59 including the funds being held on behalf of the Friends of Rastrick Cemetery. The Rastrick Big Local audit has been completed.
6. BIG IMPACT
The Space@Field Lane held an afternoon tea event on three days over the Halloween period which was well attended.
Due to restrictions the centre remains closed but they are planning to trial a takeaway afternoon tea on a collection only basis.
Space have been receiving food donations from Fareshare which have been distributed outside the school.
7. ANY OTHER BUSINESS
a) The foodbank operated by Focus4Hope has now moved out of Space.
b) The partnership agreed on a project to purchase a small xmas gift for the elderly residents in Rastrick Hall and St Winifreds Nursing Home. Action: Angela to progress this
c) Danny, Amanda and Leanne have had a meeting with the head of Field Lane School and discussions around the garden area at Space are on-going.
d) A brief discussion took place about any future applications that RBL receive. It was agreed that in future we need to place more emphasis on what information we require and we need to ensure that the applicants fully understand the application criteria and the need to adhere to this.
(e) As Voice your Choice has not been held this year and it is not envisaged in 2021 it was felt that any requests for funding could be considered under the other two funding streams.
8. Date for next meeting: Wednesday 6th January 2021
9. Close 8.00 pm
---