Minutes 5th March 2020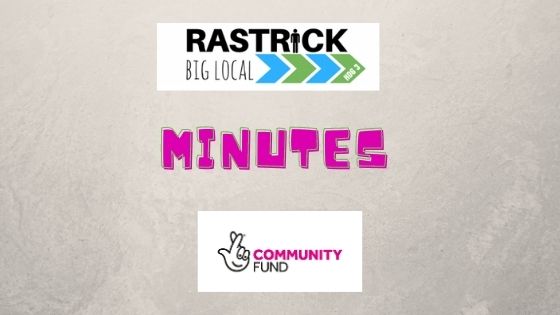 MINUTES RBL PARTNERSHIP MEETING
THURSDAY 5th MARCH 2020 ARNCLIFFE CENTRE
Present: Angela Peaker, Amanda Caldwell, Peter Edwards, Rich Richardson, Anne Sherriff, Danny Leech, Elliot Collins
Apologies: Robert Hustwick, Zoe Stock, Mags Bryson, Leanne Jones
1. WELCOME AND APOLOGIES
The chair opened the meeting and apologies were noted.
2. MINUTES OF PREVIOUS MEETING AND MATTERS ARISING
The minutes of the meeting of 9th January 2020 were approved.
3. LTO UPDATE
A financial updated was provided as follows:
The net funds available for 2018-2019 were £258,700 and expenditure from March 2019 to 31 December 2018 was £204,707.
CFFC currently hold £53,993 and £55,134 is required to complete the VYC projects. There is £45,700 still available to draw down of the 2018-2019 budget.
CFFC have received £72,150 for the period 2020. Expenditure to date is £3,558 leaving £68,592 available.
4. BL REP UPDATE
Anne circulated an email in relation to a handbook about Community hubs. This was forwarded to Space for their information.
Enrolment for the Big Local Connects event in July has not yet opened and Amanda and Angela may attend this.
Amanda has been accepted on the Community Leadership Course with Local Trust
5. SUB GROUP UPDATES
(a) Voice your Choice 1
Rastrick Juniors Football Club submitted a new proposal and requested the £25,000 Voice your Choice funding. They envisage that the work will take place during the summer and be completed by September. The partnership approved this subject to this being completed by the year end.
Voice your Choice 3
The pathway at Rastrick Library is now in place with work still being undertaken to finish the wall and surrounding garden area.
Voice your Choice 5
The first part of the works at Rastrick Cricket Club has been completed and, weather permitting, the second part of the works should be complete within a month. The contract has been completed and first invoice submitted.
The contract between Cromwell Bottom Nature Reserve and CFFC is now approved. Works are in progress and invoices have been paid. They have made a small amendment to the project to complete a wildlife viewing station and submitted this to the partnership. The partnership agreed to this amendment.
(b) Community Small Grants
Woodhouse Residents Group has obtained a quote for a traffic survey in order to support their request to the Community Small Grants fund. Amanda, Sophie and Angela all declared an interest. A decision could not be reached with the remaining partnership members and it was agreed that they would consider this further in order to report a decision back to the group.
St John's Church has submitted an application and this is still being considered.
It was agreed that members of the sub-group should be reviewed due to a voting member leaving the partnership. Action: Anne to review members with a vote
(c) Marketing and website
The next newsletter is due for the period of April to June 2020. RBL will continue to advertise events around the area via the website and Facebook.
(d) Treasurers Report
The balance at the meeting on 5th March 2020 was £3275.60.
6. BIG IMPACT
Space@Field Lane is considering a "men shed" project. Danny and Peter agreed to go along to the meeting when they discuss this. They have also asked if a representative of RBL could attend their meetings and it was agreed that the partnership would share this responsibility between them.
The sub-group still need to set a date to review possible creative input for the 5 year review from CLG.
7. ANY OTHER BUSINESS
a) Regarding Mothershare and Backpack Buddies (launched in Calderdale Pilot), a partnership was agreed between Field Lane Primary School and commissioners at CMBC and a meeting was held in January. Due to changes in staffing relationships this is to be further developed with school SMT's.
b) Regarding Voice your Choice 6, it was agreed that a website and social media post would be published to inform residents that it is to be suspended in 2020 in order to concentrate on an alternative and "bigger" commissioned piece(s) of work.
c) It was agreed that Fruit for All would be taken under the umbrella of Rastrick Big Local.
d) A Community tidy-up is to be held at Bramston Street Park from 12.00 pm until 2.00 pm on 21st RBL will put this on the website/facebook page. Action: Sophie to send information to Angela
8. PLAN REVIEW
At the meeting in March it was agreed that RBL would look at different ideas to provide a legacy.
Anne provided information from other Big Local areas.
Danny mentioned Eclipse Energy. They are a provider working with the government on a project funded by the ECO 3 Scheme to reduce energy emissions and address fuel poverty. Discussion took place about whether RBL could work with them and it was agreed that this may be worth exploring. Action: Danny to invite a representative to next meeting.
The partnership briefly discussed whether the house which is part of the library could be used as a base for Rastrick Big Local. As the library is a listed building, it is not known whether this the house is and Sophie will look into this on behalf of RBL
9. TIME AND VENUE FOR NEXT MEETING (S)
The date of the next meeting is 14th April 2020 at Space@Field Lane
---