Minutes 9th January 2020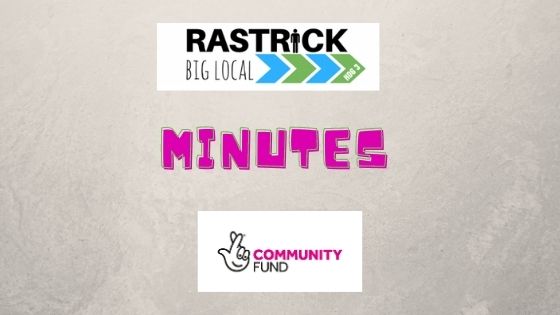 MINUTES RBL PARTNERSHIP MEETING
THURSDAY 9th JANUARY 2020 AT SPACE@FIELD LANE
Present:
Angela Peaker, Amanda Caldwell, Peter Edwards, Rich Richardson, Anne Sherriff, Danny Leech,
Sophie Whittaker, Robert Hustwick,, Mags Bryson
Apologies: Zoe Stock, Elliot Collins, Robert Thornton
1. WELCOME AND APOLOGIES
The chair opened the meeting and apologies were noted.
2. MINUTES OF PREVIOUS MEETING AND MATTERS ARISING
The minutes of the meeting of 21st November 2019 were approved.
3. LTO UPDATE
A financial updated was provided as follows:
The net funds available to date this year (year 5 – 2018-2019) were £258,700
Expenditure from March 2019 to 31 December 2019 £204,707.
CFFC currently hold £53,993 and £55,134 is required to complete the VYC projects
There is £45,700 still available to drawdown of the 2018-2019 budget
The new plan for 2020-2024 has now been accepted but no funds have yet been received for this year.
Action: Robert to ring Local Trust to query funds
4. BL REP UPDATE
The plan for 2020-2024 has been approved by Local Trust and a further review will be necessary in October 2024. Anne updated that Big Local Connects in 2020 will be held in Nottingham again on the 10th and 11th July.
5. SUB GROUP UPDATES
(a) Voice your Choice 1
To date, there has still been no further communication from Rastrick Juniors Football Club.
Voice your Choice 3
The pathway at Rastrick Library is now nearing completion.
Voice your Choice 5
The first part of the works at Rastrick Cricket Club have been completed and, weather permitting, the second part should be completed shortly.
The works are continuing at the Cromwell Bottom Nature Reserve.
(b) Community Small Grants
No applications have been received to the Community small grants fund.
(c) Marketing
The results of the on-line survey which was recently undertaken was circulated around the partnership for perusal.
Website
The website continues to be updated with activities around the area.
(d) Treasurers Report
The balance at the meeting on 21st November 2019 was £3504.60. The monies returned from Focus4Success have been repaid to CFFC and the balance at 9th January 2020 is £3154.60 (being funding allocated to small grants and £300 of which is being held on behalf of the Friends of Rastrick Cemetery). It was agreed that £500 be transferred into the account for this next period. Action: Robert to transfer funding to RBL account
6. BIG IMPACT
As Space@Field Lane has been funded via the Big Impact application, it was decided that it would be beneficial to arrange a meeting between RBL and Space to discuss this, in general. Action: Meeting to be arranged
7. ANY OTHER BUSINESS
a) At the last meeting Danny updated that a garden plan between Space and Field Lane primary school had been approved. A bid had been put in for funding from "Get Together" funding but this was unsuccessful. This matter is still under review.
(b) Mothershare and Backpack Buddies have launched a pilot scheme in Calderdale. This is still under discussion.
(c) The Rastrick Ward Forum is on 20th January 2020 at Rastrick High School at 7.00 pm.
(d) Fruit for All were funded via Voice your Choice and a question was raised as to whether the activities undertaken may be covered under the RBL insurance. Action: Angela to review RBL policy/Mags to review FFA agreement with CMBC.
8. PLAN REVIEW
The feedback received from the assessor on the plan for 2020 to 2024 was discussed. The partnership had a number of ideas on how a legacy could remain and members of the group were tasked with finding out information on various topics. It was agreed that a meeting with Rob Billson of CFFC may be beneficial for ideas on legacy. Action: Meeting to be arranged between Amanda and Rich and CFFC.
9. TIME AND VENUE FOR NEXT MEETING (S)
The date of the next meeting is 5th March 2020 at the Arncliffe Centre
---