Minutes 24th October 2019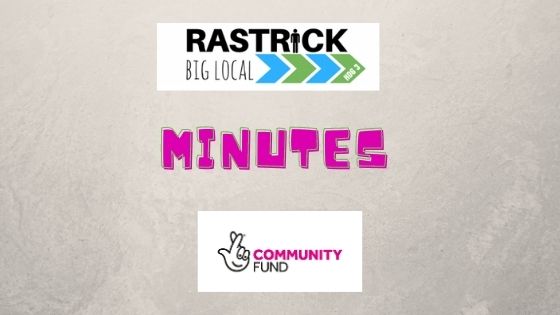 MINUTES RBL PARTNERSHIP MEETING
THURSDAY 24th OCTOBER 2019 AT SPACE@FIELD LANE
Present:
Angela Peaker, Amanda Caldwell, Peter Edwards, Rich Richardson, Danny Leech, Mags Bryson, Anne Sherriff,
Zoe Stock, Sophie Whittaker, Leanne Jones
Apologies: Elliot Collins, Robert Hustwic
1. WELCOME AND APOLOGIES
The chair opened the meeting and apologies were noted.
2. MINUTES OF PREVIOUS MEETING AND MATTERS ARISING
The minutes of the meeting of 19th September were approved.
3. LTO UPDATE
There was no representation from CFFC but a financial updated was provided.
The net funds available to date this year were £258,700
Expenditure from March 2019 to October 2019 is £184,810
Funds available are £73,890 with £69,282 committed to VYC projects
There is £45,700 still available to drawdown of the 2018-2019 budget
4. BL REP UPDATE
At an earlier meeting it was agreed to visit Stockport Big Local who have experience in Credit Union matters. However, as this is still under review it was decided to postpone the visit at present. Action: Anne to contact Stockport Big Local.
A brief discussion took place regarding the partnership in general as the partnership review forms are due to be submitted. It was agreed that we still need to enlist new members and in particular, some younger members.
Action: Mags will speak to Young People's services/ Action: Angela to finalise any outstanding forms for Anne
It was also agreed that it is good practice to have a Declaration of Interest form completed each year by partnership members. Action: Angela to do forms for meeting in January
5. SUB GROUP UPDATES
(a) Voice your Choice 1
The funds of £25,000 which were drawn down earlier in the year for RJFC have now been returned to Local Trust. We have heard nothing from them and no financial renewed draw down is in place.
Voice your Choice 3
The improvements to Rastrick Library are underway and, weather permitting, it is hoped the project will be completed by the end of November.
Voice your Choice 5
The first part of the works at Rastrick Cricket Club have been completed and, weather permitting, the second part should be completed within a month. The contract has been completed with the cricket club.
The contract between Cromwell Bottom Nature Reserve and CFFC is now approved with works due to commence in November.
(b) Community Small Grants
Small grants have been paid out to Brighouse Arts Festival and Field Lane School PTA.
An application has been received from Rastrick Bowling Club towards the cost of installing a green watering system. Following discussion it was agreed not to support the application as the maintenance of the green was the responsibility of the club and number of residents who may benefit would be minimal.
Action: Mags to contact Bowling Club.
The newly formed Woodhouse Residents Association submitted an application to carry out a community and traffic project. Sophie declared an interest in the application and didn't take part in discussion.
They formed to campaign against the proposed "garden suburb" which is outlined as part of the council's local plan. Following discussion it was agreed to support in principle as they are a new group, however it is to be made clear that it doesn't mean that RBL support the aims of the group.
Action Mags to contact the group, outline RBL position and find out if they want to progress with grant request, also follow up about quote for the cost of traffic survey.
(c) Marketing
To gain input from the Community to add to the new plan it was agreed to produce a Survey Monkey to send out via email as well as placing this on the website and facebook, a paper copy will be available for use at other events.
Website
We are continuing to update the website with events around the Community.
(d) Treasurers Report
The balance at the meeting on 19th September 2019 was £6504.60. A small grant has been paid out for £1500 and the balance at 24th October 2019 is £5004.60.
6. BIG IMPACT FUNDING
Space@Field Lane has a number of different activities with a Halloween party at the end of October.
There is an idea and potential funding support to work with the school to look at the garden space being improved and it being a joint area for school and the community. Action: Mags and Danny liaising with Field Lane school.
7. ANY OTHER BUSINESS
a) At the meeting in September discussion took place about a new initiative called Backpack Buddies who want to pilot a scheme in Calderdale. This is currently under discussion.
b) RBL were paid a visit by Keighley Big Local and gained valuable information on Credit Union partnerships and small grant options and these topics are still under discussion.
c) Due to unforeseen circumstances Angela is unable to attend the workshop in Leeds. No other members were able to attend so Danny will be going alone.
d) Danny, Angela and Peter will be attending the older persons' fair organised by Craig Whittaker MP on Friday 8th November 2019
e) The date for the Community update meeting was confirmed as Thursday 14th November 2019 at the Space@Field Lane with a pie and pea supper.
8. PLAN REVIEW
The draft of the plan review which we undertook in September was discussed and a couple of amendments were suggested. The next step is to produce the new plan for the next 3 year period which needs to be completed and filed by the end of November. Action: Anne to send revised plan review to Amanda for approval. Amanda to begin a draft of the plan and Angela to send her the budget figures.
9. TIME AND VENUE FOR NEXT MEETING (S)
The date of the next meeting is 20th November 2019 from 5.30 pm at the Arncliffe Centre with the next meeting date being set for 9th January 2020 at the Space@Field Lane.
---