Minutes 19th September 2019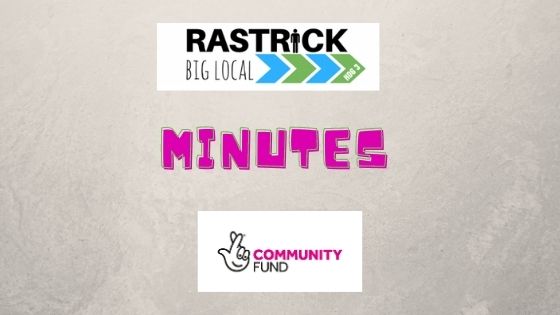 MINUTES RBL PARTNERSHIP MEETING
THURSDAY 19TH SEPTEMBER 2019 AT THE ARNCLIFFE CENTRE
Present:
Angela Peaker, Amanda Caldwell, Peter Edwards, Richard Richardson, Danny Leech, Mags Bryson, Anne Sherriff, Zoe Stock
Apologies: Sophie Whittaker, Elliot Collins, Robert Hustwick, Steve Duncan, Leanne Jones
1. WELCOME AND APOLOGIES
The chair opened the meeting and welcomed new member, Zoe Stock. Apologies were noted.
2. MINUTES OF PREVIOUS MEETING AND MATTERS ARISING
The minutes of the meeting of 14th August 2019 were approved.
3. LTO UPDATE
There was no representation from CFFC but a financial updated was provided.
This year a total of £219,700 has been received, the underspend of £18,484 from 2017-2018 has been returned along with the £25,000 previously allocated to RJFC. Thus net funds available were £176,216.
Expenditure from March 2019 to September 2019 is £122,159.
Funds available £54,057.
A request to drawdown the remaining budget for 2018-2019 has been submitted.
4. BL REP UPDATE
Anne reminded members about the workshop in Leeds on "how to measure Change". Danny and Angela will be attending.
At an earlier meeting it was agreed that a visit to Stockport Big Local may be worthwhile. Anne has received an email with various dates to be circulated. Action: Angela to email date
An extension has been granted until 31st December 2019 to complete the plan review.
Partnership review forms to be completed: Action: Angela to finalise forms for Anne
5. SUB GROUP UPDATES
(a) Voice your Choice 1
RJFC agreed to contact Rastrick Big Local when a new plan was in place and to date we have received no further information. The monies allocated to this project have been returned to Local Trust.
Voice your Choice 3
The scheduled works at the library are scheduled to be completed within four weeks.
Voice your Choice 5
The draft contract with Rastrick Cricket Club has been completed and is with CFFC awaiting any amendments and signatures.
The draft contract with Cromwell Bottom Nature Reserve is with CFFC for approval. This will be reviewed by the sub-group to approve and recommend to the partnership. Action: Sub group meeting to be arranged.
(b) Community Small Grants
We are awaiting the return of the necessary forms from Brighouse Arts Festival and Field Lane School PTA to pay out the small grants.
Focus4Success has returned the agreed amount of £350 to RBL from an earlier small grant. They queried if they could apply again and Mags confirmed that this would be in order as long as it was for different things.
An enquiry has been made to the small grants fund for a potential drama project in Rastrick. A number of parties may be interested in this. Action Mags and Danny to discuss
(c) Marketing/website
The pop up banners have been received. At the Space@Field Lane event on 7th September, around 75 questionnaires were completed with 24 including email addresses. Around 169 tokens for free ice cream were given out.
Website
We are continuing to update the website with events around the Community. There are now around 420 on the mailing list.
(d) Treasurers Report
The RBL account has been replenished by CFFC and the balance at 19th September 2019 is £6504.60.
6. BIG IMPACT FUNDING
There were two new potential applications for funding and one of these has been rejected. The sub-goup will review creative input for the 5 year review from the Creative Learning Guild. Action: Sub-group meeting to be arranged
7. ANY OTHER BUSINESS
(a) Danny was invited to speak at the Big Local Connects in Nottingham about libraries. He updated RBL that some libraries are lending items out, other than books, to the Community. Rich also attended the event and attended some workshops one being on foodbanks. A cookery book is available to purchase for Big Local areas. Rich also commented that it may be worthwhile making contact with Keighley Big Local. Action: Danny to contact Keighley Big Local.
(b) Danny and Leanne have met with representatives of Calderdale Credit Untion and the Noah's Ark Debt Recovery services and this matter is currently under review.
(c) Danny attended an event in Halifax on Mothershare Backpack Buddies Launch who want to launch a pilot in Calderdale. This was discussed briefly by the partnership but no decision was made to progress this at this stage.
(d) The contracts for partnership support from Danny and Angela are due to expire in October. The partnership agreed to renew these for a further 12 month period. Action: Angela to instruct CFFC to renew contact
(e) RBL have been offered a stall at the pensioner's fair on 8th November. Details are yet to be finalised. Danny and Peter will attend.
(f) The Community update meeting is held in November and the agreed date is 14th November 2019. Action: Mags to book Space@Field Lane for venue and catering
8. TIME AND VENUE FOR NEXT MEETING (S)
The date of the next meeting is 24th October 2019 from 5.30 pm until 8.30 pm at the Space@Field Lane.
---