Minutes 10th July 2019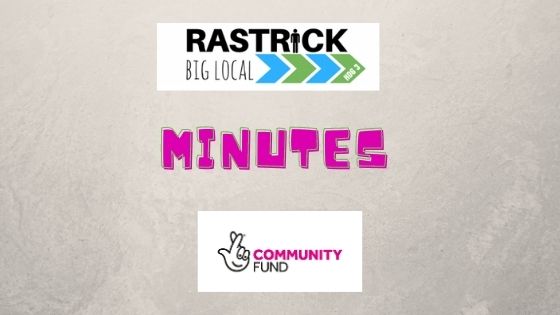 MINUTES RBL PARTNERSHIP MEETING
THURSDAY 10th JULY 2019
Present:
Amanda Caldwell, Angela Peaker, Danny Leech, Sophie Whittaker, Anne Sherriff, Peter Edwards
Apologies: Elliot Collins, Mags Bryson, Rich Richardson
1. WELCOME AND APOLOGIES
The Chair welcomed everyone to the meeting and apologies were noted.
2. MINUTES OF PREVIOUS MEETING AND MATTERS ARISING
The minutes of the meeting of 23rd May 2019 were approved.
3. LTO UPDATE
There was no representation from CFFC but a financial update was provided. A total of £219,700 has been received. Expenditure from March until the end of June 2019 is £117,815 and £18,484 is still being held for 2017-2018. Therefore £129,369 is currently held by CFFC.
4. BL REP UPDATE
The Big Local connects event is on 13th and 14th September in Nottingham. We are still looking at who may be able to go to represent RBL.
As part of the plan review a few different ideas were discussed. These were investigating the possibility of recycling and environmental projects. Danny is aware of a strawhouse project and RBL would be interested in visting this: Action: DL to draft a letter
We also discussed the Real Junk Food project and would like to look into this idea: Action Danny to invite Adam Smith to RBL meeting.
We would still like to explore time banking/skill swap/men in sheds. Action: Rich to explore
Other Big Local areas have become involved with Credit Union which RBL would like to look into. Action: Anne to provide contact for Stockport Big Local/Danny to arrange a meeting with local Credit Union
We also discussed how we may attract further partnership members/young people with an idea being to contact the parent governors. Action Danny to prepare a letter to PTA groups.
A further plan review will be undertaken in August and preparations will be made to progress this.
Action: Anne to forward a link to a survey for completion.
The current plan runs out on 31st October and it was agreed to apply for an extension until 31st December 2019. Action: Amanda to email Local Trust to extend date.
5. SUB GROUP UPDATES
(a) Voice your Choice 1
RJFC are still considering different options for the clubhouse and have queried how they can access the funding. Action: Danny to discuss with CFFC.
Voice your Choice 3
CFFC and CMBC are in the progress of agreeing the contract and work is due to proceed shortly.
Voice your Choice 5
A total of 1375 votes were cast this year. Rastrick Cricket Club Living Roof Project was chosen by the Community in first place with 50.91% and will be awarded £42,870. Their contract has been drawn up and is yet to be signed.
The second project to receive the remainder of the funding is Cromwell Bottom – Wildlife Woods and Water receiving 24.58%. They will be awarded £22,130. Their contract is yet to be drawn up.
(b) Community Small Grants
There have been no applications to the Community small grants fund. A poster has been designed and will be distributed around the area. Action: Angela to deliver posters.
The £5.000 contribution from CFFC is now in the RBL account.
(c) Marketing/website:
A pop up banner is in the process of being produced. It was agreed that we would have a presence at the Space@Field Lane official opening on 7th September and are working on ideas on how to engage with the Community. It was agreed that RBL would fund free ice cream but we are still discussing this –ie completion of survey to obtain a voucher.
Website:
As we are now 5 years into the plan we will publish a post both on the website and facebook asking the Community to give any ideas on how we can continue to improve the Community.
A number of people have provided their email address to RBL to receive a newsletter and there are now over 385 on the RBL circulation list.
(d) Treasurers Report
The balance at the meeting on 23rd May 2019 was £881.47. CFFC have paid the £5,000 small grants contribution into the RBL account and the refunded bank charges have been returned to CFFC. The balance at 10th July 2019 is £5786.37.
6. BIG IMPACT FUNDING
Space@Field Lane opened the centre on 2nd July 2019 to the Community. Danny will be meeting shortly with Leanne, the centre manager, to discuss the workspace for RBL.
The Brighouse Central Foodbank application was declined and the application has not been progressed further.
An application has been received from St. Matthews and St Johns and the sub-group has still to review these.
7. ANY OTHER BUSINESS
a) The Rastrick Fire Station Funday is on Sunday 14th July 2019
8. TIME AND VENUE FOR NEXT MEETING (S)
The date of the next meeting is 14th August 2019 from 5.30 pm until 8.30 pm at the Space@Field Lane.
---