Minutes 11th April 2019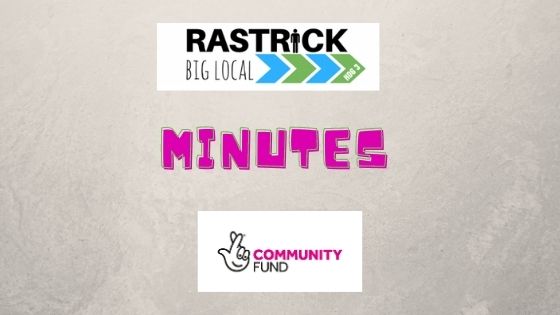 MINUTES RBL PARTNERSHIP MEETING
THURSDAY 11th APRIL 2019
Present:
Amanda Caldwell, Peter Edwards, Angela Peaker, Danny Leech, Rich Richardson, Helen Thompson, Anne Sherriff
Apologies: Mags Bryson, Robert Hustwick, Elliot Collins
1. WELCOME AND APOLOGIES
The Chair welcomed everyone to the meeting and members were introduced to the new Big Local representative, Anne Sherriff, who has now taken over the role from Helen Thompson. Apologies were noted.
2. MINUTES OF PREVIOUS MEETING AND MATTERS ARISING
The minutes of the meeting of 28th February 2019 were approved.
3. LTO UPDATE
CFFC were unable to attend the meeting but provided a financial update. A total of £144,700 has been received comprising £54,700 which is 50% of the 2018-2019 budget and a separate payment of £90,000 for the Friends of Rastrick Library and Rastrick Juniors projects which had been approved earlier. CFFC currently hold £143,268 along with £18,484 from the 2017-2018 budget to be returned to Local Trust.
All monies have now been paid out to Bradley Woods and Rastrick Plays Better. No funds have yet been released for the Space@Field Lane application which is currently being evaluated by Big Local.
The financial procedures document between CFFC and RBL up to October 2019 has been amended and approved.
4. BL REP UPDATE
RBL welcomed the new BL representative, Anne Sherriff, who is taking over the role from Helen Thompson. A brief discussion took place about the current RBL plan which is for a 12 month period. Big Local is encouraging groups to look at a 5 year plan. We had agreed at an earlier meeting to ask for assistance in this area but as Anne has experience in this field we feel that Anne will be able to assist here. It was decided that it would be beneficial to hold a separate plan review meeting on 25 May to progress this. Action: Angela to book Arncliffe Centre
In 2018 RBL and the Creative Learning Guild submitted an expression of interest for the Creative Civic Change Programme but this was oversubscribed and the application was unsuccessful. However an invitation has been extended to RBL to meet in June to further discuss the application that was submitted
5. SUB GROUP UPDATES
(a) Voice your Choice 1
A meeting has taken place with Rastrick Juniors Football Club. Due to a number of factors they are unable to progress the project and are looking at other alternatives. They will contact RBL when they have another plan in place.
Voice your Choice 3
The funding for the Friends of Rastrick Library and RJFC has been released. CFFC and CMBC are in the process of signing the contract on the library project.
The Bradley Woods project is now complete.
The Rastrick Plays Better project is also complete and in early April they were presented with the Duke of York Community Initiative Award at Catterick Garrison.
Voice your Choice 5
There are six applications for Voice your Choice 2019. The draft form is being prepared and the voting date and duration of the voting period is still to be decided. Action: Danny to contact voting stations
(b) Community Small Grants
Lillands Lane allotments submitted an application to the small grants fund for an ECO toilet on-site. A meeting has taken place with them as they would like to do more work with the Community. They are currently drawing up a plan and are in discussion with the council. The application is not being progressed at this stage.
A meeting was also held with Focus4Success regarding the activity sessions at St John's Church which have not been well attended. They will be relocating to the Arncliffe Centre from May and this will be reviewed again after a few sessions.
An application has been made to CFFC for the £5K contribution to the small grants fund. As of 11th April this had not yet been received.
(c) Marketing/website:
We will be attending the Spring Market on 28th April 2019. It was decided to extend an invitation to all the projects bidding for the VYC funding this year to have a presence on the stall. Action: Danny to contact projects.
We also discussed how we could better advertise Rastrick Big Local around the area with a suggestion as to whether we could place a board on roundabouts. Action: Sophie to speak with Highways
Website:
2plus1 have set up the necessary folders for the Cloud storage. We will contact them so as to progress this further. Action: Angela to liaise with 2plus1
(d) Treasurers Report
The balance at the meeting on 28th February 2019 was £907.93. The under spend of £226.52 from the 2017-2018 budget has been returned to CFFC. The bank has agreed to waive the monthly fee on the RBL account and any charges paid from the lottery funding will be returned to CFFC. An audit of the RBL account is due. As of 11th April 2019 the balance on the account is £837.78.
RBL applied to the CMBC Ward Forum fund on behalf of the Friends of Rastrick Cemetery and the approved funding of £300 is being held in the RBL account until requested. Action: Angela to action audit; return bank charges to CFFC.
6. BIG IMPACT FUNDING
Local Trust requested further information on the Space@Field Lane project but the monies had still not been received despite the information being supplied. We have contacted Local Trust as a matter of urgency but are still awaiting a response. Action: Helen will contact Local Trust
Regarding the Brighouse Foodbank application the contact has been approved ready for signature. However for reasons unknown they have decided not to progress this further.
7. ANY OTHER BUSINESS
(a) The Chief Executive of Local Trust, Matt Leach, is visiting on 12th April 2019. An itinerary has been drawn up for him to visit the various play areas, Bradley Woods, the library and Space@Field Lane with lunch to follow.
(b) CFFC will be hosting a visit to RBL and Space@Field Lane on 10th May 2019 at the Arncliffe Centre with the Lord Lieutenant of West Yorkshire and the Mayor and Mayoress of Calderdale in attendance.
8. TIME AND VENUE FOR NEXT MEETING (S)
The date of the next meeting is 23rd May 2019 at 5.30 pm at the Arncliffe Centre.
---